IMPROVE FLEXIBILITY IN YOUR SHOULDER AND BACK MUSCLE
If you are one of those who has a back pain for a long time and tired of doing all the therapies and medicines and still pain stays the same.
This Lumbar support stretcher is able to help relieve muscle spasm, pinched nerves, herniated discs, excessive flexion, sciatica etc.
This Stretcher Lumbar Support Device is an effective stress and tension reliever.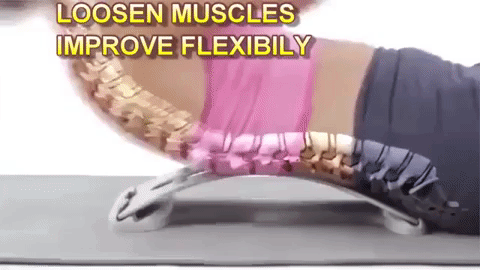 ABOUT THE PRODUCT
The Back Massage Stretcher is a lumbar extender that is used to loosen up tight muscles and relieve back pain caused by excessive flexion, pain due to overworking, and poor spinal alignment and posture.
BENEFITS
Relieve back pain effectively 🤗

Relieves pressure on vertebrae and discs

Promotes blood circulation ♻️

Adjustable and portable

Decompresses your spine 💨

Improve flexibility in your shoulder and back muscle

Correct postural imbalances 🍃
It is designed to make stretching your back easy, safe, affordable, and enjoyable.
It is used to help relieve chronic back pain, correct postural imbalance, restore the natural curvature of the back and improve flexibility in shoulder and back muscles.
Highly recommended and used by Physicians, Chiropractors, and Professional Athletes!
For extended use of a computer or all day sitting in the office can lead to spine and posture imbalance.
The magic back stretcher and lumbar support are uniquely designed to help correct and improve posture by relieving stress and tension in the muscles.
Key Features:
Ergonomic design helps stretching the lumbar muscle to relieve back pain due to tight muscle, excessive flexion or poor spinal alignment.
3 arc level allow progressive degrees of stretching to suit individual body types and fitness level.
No need for taking any medicine, just do the 5 minutes twice a day and see you lumbar muscle gets complete relief.
Specification:
Color:  Black

Size:  39*25cm

Adjustable distance:  1.5cm*4

Manual adjustment: 4 height setting

Application: cervical, lumbar, leg, foot, hand.

Material: environmental protection ABS